When:
November 6, 2019 @ 12:00 pm – 2:00 pm
2019-11-06T12:00:00-08:00
2019-11-06T14:00:00-08:00
Where:
Good Samaritan Regional Medical Center
3600 NW Samaritan Dr
Corvallis
OR 97330

Contact:
Alise Liepnieks
503-782-4868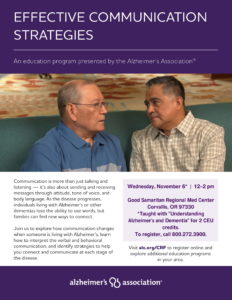 An education program offered by the Alzheimer's Association.
ALZHEIMER'S IS NOT NORMAL AGING.
It's a disease of the brain that causes problems with memory, thinking and behavior.
Join us to learn about:
» The impact of Alzheimer's.
» The difference between Alzheimer's and
dementia.
» Alzheimer's disease stages and risk factors.
» Current research and treatments available
to address some symptoms.
» Alzheimer's Association resources.
+
Communication is more than just talking and listening — it's also about sending and receiving messages through attitude, tone of voice, and body language. As the disease progresses, individuals living with Alzheimer's or other dementias lose the ability to use words, but families can find new ways to connect.
Join us to explore how communication changes when someone is living with Alzheimer's, learn how to interpret the verbal and behavioral communication, and identify strategies to help you connect and communicate at each stage of the disease.
This class offers 2 CEU credits.
All classes are free. Please visit alz.org/CRF or call 800-272-3900 to register.