When:
May 29, 2020 @ 2:00 pm – 3:00 pm
2020-05-29T14:00:00-07:00
2020-05-29T15:00:00-07:00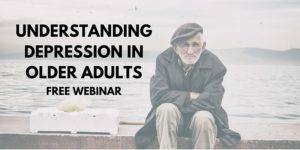 Depression is a true and treatable medical condition, not a normal part of aging. However older adults are at an increased risk for experiencing depression.
Depression is not just having "the blues" or the emotions we feel when grieving the loss of a loved one. It is a true medical condition that is treatable, like diabetes or hypertension.
For more information, Click Here.