When:
2019-10-17T00:00:00-07:00
2019-10-18T00:00:00-07:00
Where:
Center for Urban Horticulture
3501 NE 41st St
Seattle
WA 98105

Contact:
Washington State Health Care Advocacy Association
206-352-7399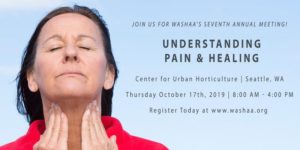 Why is pain such a crucial, but elusive topic? While everyone feels pain differently according to their genetic makeup and other factors, pain is often misunderstood. If pain is individualized, how do physicians treat pain effectively and consistently? How can we conquer pain and focus on healing? The WASHAA 7th Annual Meeting will focus on defining the many aspects of pain and how to heal. Join us for a day of learning, engaging with our WASHAA community and practicing techniques in an interactive and fun way.