When:
June 10, 2021 @ 6:30 pm
2021-06-10T18:30:00-07:00
2021-06-10T18:45:00-07:00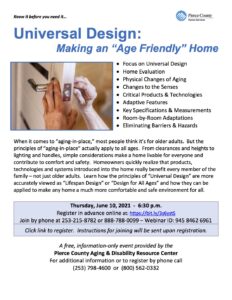 When it comes to "aging-in-place," most people think it's for older adults. But the principles of "aging-in-place" actually apply to all ages. From clearances and heights to lighting and handles, simple considerations make a home livable for everyone and contribute to comfort and safety. Homeowners quickly realize that products, technologies and systems introduced into the home really benefit every member of the family – not just older adults. Learn how the principles of "Universal Design" are more accurately viewed as "Lifespan Design" or "Design for All Ages" and how they can be applied to make any home a much more comfortable and safe environment for all.
"Universal Design: Making an "Age Friendly" Home" will explore the principles of design that can be introduced into any home.  The presentation will be held offered once in June:
June 10, 2021 at 6:30.  Register online at https://bit.ly/3s6ystS
Join by phone at 253-215-8782 or 888-788-0099 – Webinar ID: 945 8462 6961