When:
2020-06-11T00:00:00-07:00
2020-06-12T00:00:00-07:00
Where:
Zoom
3855 Wolverine St NE
Contact:
Natascha Cronin
5033786303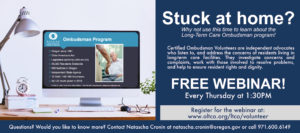 Every week, we offer a webinar which explains what the Office of the Long-Term Care Ombudsman does to protect vulnerable Oregonians living in long-term care facilities. If you have a loved one in long-term care, or you know someone who may need help, please participate in this webinar, and share the link with others!
You will learn about the agency, how we operate, and what our volunteers do to give those living in long-term care a voice.
Webinar Registration Link
https://zoom.us/webinar/register/WN_dcE1nvUnQ-egH5VMXdh51g
Agency Facebook Page: www.facebook.com/OregonLTCOmbudsman
Agency Website: www.oltco.org