When:
October 11, 2019 @ 1:00 pm
2019-10-11T13:00:00-07:00
2019-10-11T13:15:00-07:00
Where:
Internet
3855 Wolverine St NE
Contact:
Natascha Cronin
503-378-6303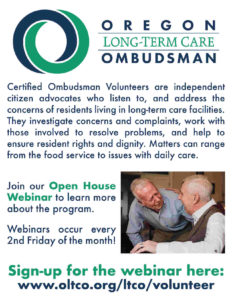 Learn about becoming a Certified Ombudsman of the Office of the Long Term Care Ombudsman. What does an Ombudsman do? What are the requirements for becoming one? How do Ombudsmen give a voice to residents living in licensed long-term care facilities? These questions, and more, will be answered at the upcoming Open House.
You may register for the webinar by going to our website https://www.oltco.org/ltco/volunteer and selecting the link: Sign Up Here.