When:
July 28, 2021 @ 10:00 am
2021-07-28T10:00:00-07:00
2021-07-28T10:15:00-07:00
Where:
Bradley Lake Park
531 31st Ave SE
Puyallup
WA 98374

Contact:
Olivia Koelsch
253-625-3104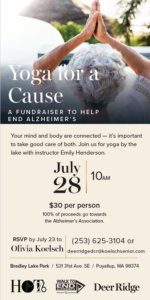 It is that time of year! We are starting to raise funds for the annual Alzheimer's Walk. Every year the Alzheimer's Association takes a full day to rally people together and "walk to end Alzheimer's." Our team at Deer Ridge has a special place in our hearts for people suffering from this disease and this year we are striving to raise $2000!
We will be raising money through local fundraisers such this YOGA FUNDRAISER we are hosting July 28th at 10 AM at Bradley Lake Park. It is $30 per person to attend this yoga class and 100% of the proceeds goes to the Alzheimer's Association. Please RSVP to join by calling 253-625-3104 or you can email me. For more details, please see the flyer below!
If you would like to support the Alzheimer's Walk by making a direct donation, simply click this link – http://act.alz.org/site/TR?fr_id=14867&pg=personal&px=16141408