Edgewood Point Assisted Living in Beaverton, Oregon, combines the care seniors need, the convenience they value, and the independence they cherish.
Edgewood Point is beautifully designed with spacious common areas to enjoy with family and friends. Our community amenities include maintenance and housekeeping services, transportation to and from appointments and shopping, and weekly linen service. Three delicious chef-prepared meals are served daily in our gracious dining room by a cheerful and friendly staff. A complete list of amenities is available on our Services and Amenities page.

At Edgewood Point Assisted Living, we promote an active adult lifestyle by offering a variety of intellectual, cultural, and recreational activities. These activities include an exciting wellness and fitness program, creative writing classes, gardening and book clubs, table games, and planned outings to go shopping, visit museums and galleries, or take in concerts and theatre performances. We often have live entertainers visit at Edgewood Pointe for everyone to enjoy. We have weekly movies shown on our wide-screen TV with refreshments included.
Health and personal care services at Edgewood Point are coordinated by our licensed nurses.
Edgewood Point Memory Care
Located within the Edgewood Point assisted living campus is Edgewood Arbor, a memory care community that offers the perfect solution for families seeking a safe, supervised, caring environment for their loved ones with Alzheimer's disease or other dementias. With a compassionate, experienced staff, our secured community combines all the comforts of home with a physical design specifically created to enhance quality of life for residents with dementia.
Assisted Living Services & Amenities
Community Amenities:
Fully furnished common areas to enjoy with family and friends
Quiet library with new books routinely added
Elegant dining room with fireplace and grand piano
Graciously appointed private dining room for special gatherings and celebrations
Full service beauty salon/barber shop
Bright activity room with full kitchen
Complimentary laundry facilities on both floors
Private mail boxes with individual keys
Spacious lounge with wide screen TV
Outdoor patio with seating for both sun and shade
Lovely exterior landscaping, professionally maintained
State-of-the-art fire safety system
Convenient off-street parking for residents and guests
Community bus for scheduled local transportation to appointments
Apartment Amenities:
Studio and one bedroom apartments with space-maximizing floor plans
Spacious bathrooms with walk-in showers for optimum safety
Convenient kitchenettes with refrigerator, sink, microwave oven, and roomy cabinets
Large windows with attractive coverings
Plush wall-to-wall carpeting
All utilities (except telephone) included
Expanded television options
Two-way voice call systems
Emergency call system
Individually controlled heating and air conditioning
Basic Services Included in Rent
Health Services:
Health services staff on duty 24 hours per day
CPR and first aid certified staff available at all times
Registered Nurse on staff to assess your health needs
Prompt response to each and every call for assistance
Dining Services:
Three restaurant-style meals served daily in our gracious dining room
Cuisine that is both delicious and nutritious
Choices with every meal
Healthy snacks available throughout the day
Attention to food preferences
Courteous dining room service
Meal tray delivery to apartment in case of illness
Activities/ Wellness Program Services:
Full-time Activity Director who coordinates an array of get-togethers, classes, and interest groups to rejuvenate body, mind, and spirit
Fitness program
Clergy services
Regularly scheduled entertainment
Enjoyable excursions for shopping, meals out, local events, and sightseeing on our air-conditioned, wheelchair-accessible bus
Attention to individual activity preferences
Opportunity to participate in Seniors Together, Serving Others, which is our community service program
Housekeeping and Maintenance Services:
Housekeeping services on a weekly basis
Linen service on a weekly basis
Apartment, common areas, and grounds maintained for optimum attractiveness, comfort, convenience, and safety
Personal Services:
In addition to our Basic Services, you can choose from a variety of Personal Services according to individual needs and preferences. In this way, an individualized service plan is created with resident, family, and staff input. Because it focuses exclusively on your needs and preferences, you do not pay for services you do not require. The goal of your service plan is to promote your health and quality of life. The plan is reviewed on a regular basis and, of course, you can modify it at any time. Personal Services include, but are not limited to, the following:
Ordering medications and supplies
Administering medications and treatments
Assisting with activities of daily living such as bathing, grooming, dressing, and mobility
Assisting with special diets
Communicating with physicians concerning health issues
Coordinating services from home health agencies such as physical therapy and skilled nursing
Assisting diabetic residents, including monitoring blood glucose and administering insulin
Assisting memory-impaired residents by offering meal and activity reminders
Performing health monitoring such as measuring blood pressure
Caring for hospice residents
Assisting with personal laundry
Personal Services related to health needs are coordinated by our Registered Nurse.
Our Assisted Living Testimonials
"Edgewood Arbor employs some of the most compassionate, kind, and caring people that we have ever encountered. (They) not only do their job extremely well, they truly care for the residents that they serve. It is not uncommon for them to know details about a resident's family, but to also know how to make each and every resident feel special and loved."
"Thank you for the wonderful care you all provided to my mother and father. Words cannot describe our heartfelt appreciation. Edgewood is truly a special place, but it is all of you that make it so. You have provided us an extended family that we will always cherish."
"Our entire family thanks you so much for the care and attention and love that you gave to our parents. Even though it is your profession, you give so much above and beyond. Please know that you are all very special people."
"I hope I can find the right words to tell you how much I appreciate your thoughtfulness and kindness. Your compassion and loving care these past five years has been remarkable. You took such good care of Mom and always treated her with dignity and respect. Mom was so very fortunate to be embraced by all of you. You are the very best."
"What a wonderful new format for our monthly newsletter. … this is just another way you make us, the family, feel and see that positive things are happening for our parents. I thank you from the bottom of my heart that my mother has you!"
"While the physical amenities of a care facility are important, the employees truly make the experience. From the RA's to the senior managers, Edgewood's employees always treated mom with respect and always insured her comfort. My family and I knew that mom's needs were addressed and that our opinions would be considered."
"Our entire family thanks you so much for the care and attention and love that you gave to our parents. Even though it is your profession, you give so much above and beyond. Please know that you are all very special people."
"Just a quick little note to put a 'spring in your step.' I just got off the phone with the daughter of one of your residents and she was telling me now nice and helpful everyone is at Edgewood Point. She said you are wonderful and she is very happy with the care her dad and his wife are receiving. So kudos to you and your staff! Please pass this message along to them."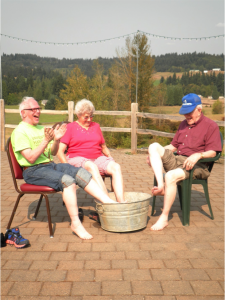 Edgewood Point Assisted Living
7733 SW Scholls Ferry Rd, Beaverton, OR 97008