11520 SE Sunnyside Road,
Clackamas, Oregon 97015
info@miramontpointe.com
www.miramontpointe.com
503-698-1600
---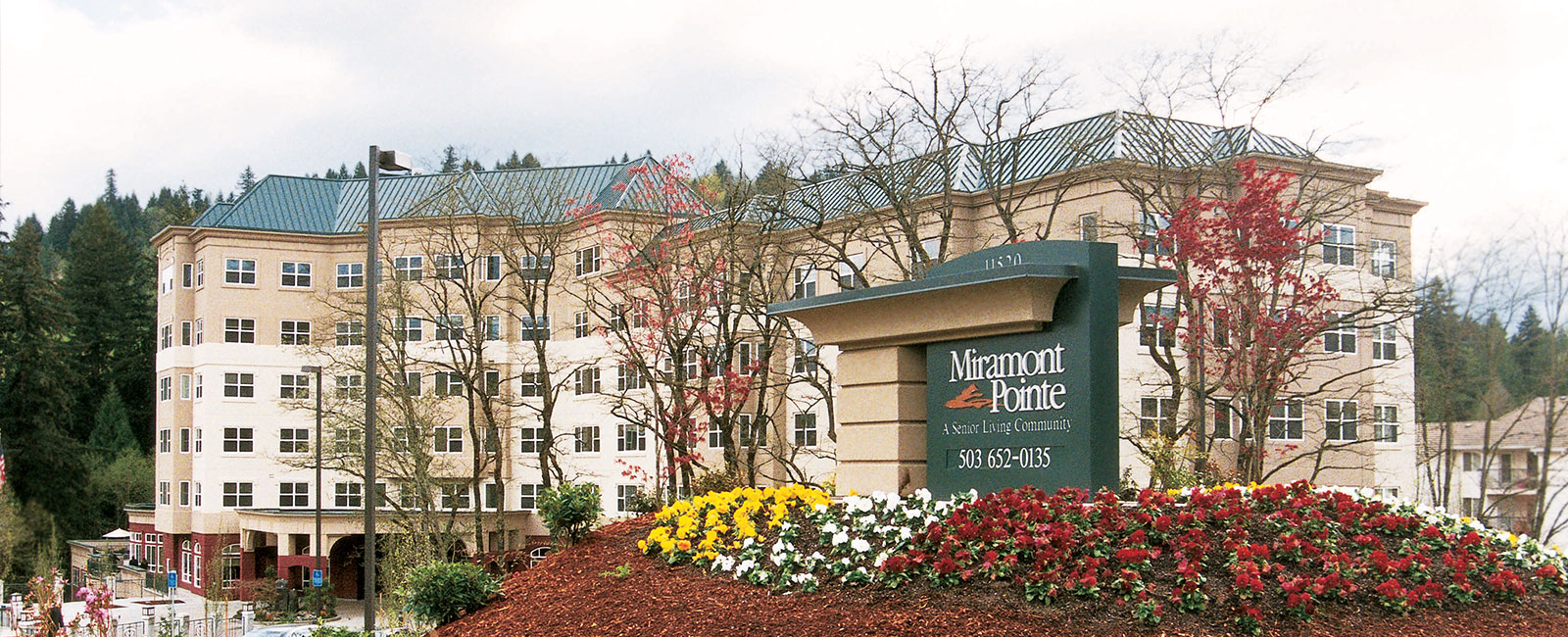 Step into Miramont Pointe and take comfort in knowing that you have come to the right place. We have been a part of the Clackamas community for many years, delivering a lifestyle of care, value and well-being amidst a beautiful setting.
Here you will find a thriving community of residents from all walks of life enjoying outstanding senior living. It is our commitment to help each resident lead a purposeful life and strive to deliver the highest quality of service.
---
 About Miramont Pointe
Miramont Pointe is a senior living community that promises independence, peace of mind and a lifetime of enjoyment. All in a serene setting of incredible beauty, both inside and out.
Extraordinary Amenities. From chef prepared, heart-healthy meals in The Pacifica Restaurant, to conversation areas and refreshments in The Willamette Café, to our indoor heated pool, library and piano lounge, residents will have plenty to do at Miramont Pointe. Included in that are our life enrichment opportunities, fitness and educational classes, clubs and activities, plus, numerous outings beyond our community to performing arts, galleries, dining and more.
Complete and Compassionate Care. Safety, security, and a resident's well-being are our utmost concern. Monitored entrances, a 24-hour emergency call system, and professional staffing keep a constant, quiet watch over residents. For those who need on-site therapy, our partnership with Infinity Rehab fills that need completely. Need respite services? We have that, too.
Impeccable Service. Fine meals, housekeeping, transportation, recreational services all come with a smile, the result, of course, is a staff that is fully committed to serving every need of our guests. Our Cascadia Spa and Salon offers wellness, hair, skin, massage and full and half-day spa treatment services that will pamper you completely.
Spacious Rooms. Probably our most attractive attribute is the variety of apartment sizes, styles, views, and price ranges. Yes, while beautifully appointed, our best attribute may be providing elegant living for those who never thought they could afford it. Miramont Pointe truly delivers a lifestyle more like a five star-resort than a typical senior living community.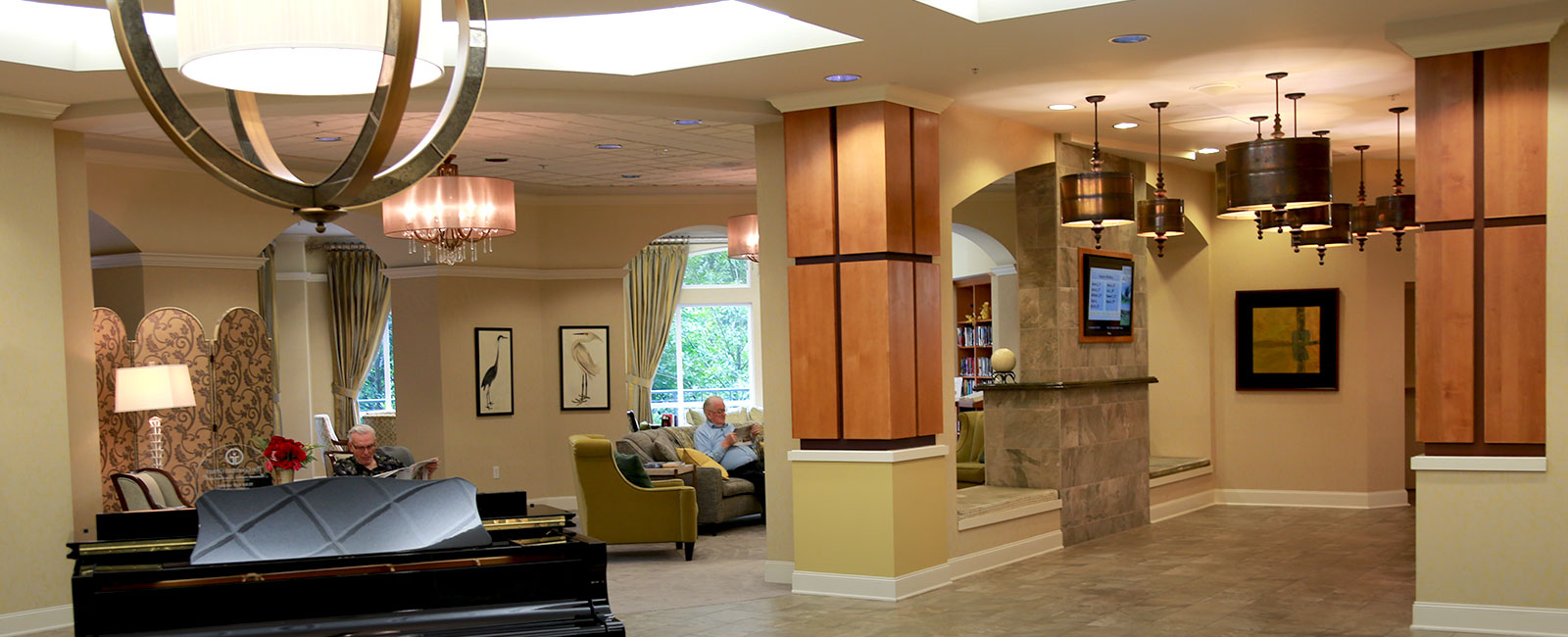 ---
Care Levels
• Independent Living
We believe life can get better with age.
Each of us lives a life richly colored by family, friends and uniquely personal experiences. At Miramont Pointe, we pride ourselves in helping you make the most of every moment. Our programs help you live your passions, fulfill your potential and keep precious memories alive, while making cherished new ones. We believe you deserve a wonderful life at every stage.
Come and experience just how rich your life can be. We'll not only help you put more meaningful moments in your life, we'll help you put more life into each and every moment.
Boundless opportunities for health and wellness.
At Miramont Pointe, we care for the whole person, mind, body and spirit with our innovative programming. Residents grow, connect, move and create at their own pace through dynamic activity involvement. Experience culinary delights from our chef-driven Food for Life® kitchen, serving whole and healthy foods to nourish your vitality. Take part in FIT Functional Fitness®, interactive, fun and results-oriented classes designed to go beyond typical senior fitness programs. Create meaningful experiences with Intergenerational Interactions, our innovative programs that foster the kind of growth, understanding and friendship that knows no age.
• Assisted Living
At Miramont Pointe, we excel at helping residents transition from independent life to a more supportive environment. Our beautiful common areas make it easy to foster friendships, and engage in daily social activities. Our community is rich in opportunities to improve quality of life as we age.
As your needs change, our assisted living services offer everything you need to live comfortably and securely.
We provide comprehensive personal care services around-the-clock. Select only the services you prefer to live as independently as possible.
Assisted Living Amenities
Social, recreational, spiritual and educational activities
Delicious, chef-driven dining with Food for Life™
Scheduled transportation
FIT Functional Fitness®
Assisted Living Services
Customized care plans designed to meet the individuals needs of each resident
Medication reminders and administration
24-hour emergency call system
Care coordination with the Physician, Pharmacist and Case Management team
Housekeeping, linen, and towel services
• Memory Care
We believe loss of memory shouldn't equate to loss of meaning.
Miramont Pointe's Pearls of Life® memory care approach is designed to incorporate the latest learning on how to both stimulate and calm the aging brain. This programming focuses on individuals' strengths and promotes opportunities for success each day. Our staff's expertise in working with memory care residents helps make the most of every moment.
From environments that enhance wellbeing, to experiences that enrich the spirit, we go far beyond the ordinary to help residents live well, every day.
• Short-Term Stays
Respite care, or short-term stays, are perfect for caregivers who need to take a break and recharge, and for seniors who need time to recover after a rehab stay or hospitalization. Guests enjoy the same services and exceptional care as our residents.
View this month's calendar here.

---
More Information
View Testimonials
Photo Gallery 
Video Gallery
Family Resources 
---
Contact us Today!
11520 SE Sunnyside Road,
Clackamas, Oregon 97015
503-698-1600

Request a Tour
miramontpointe.com/contact
Connect on Facebook 
---