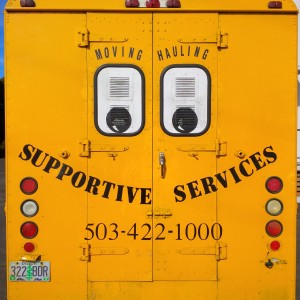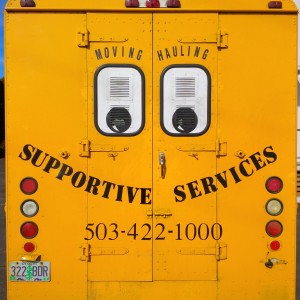 Phone: Todd's Cell- 503-422-1000/ Office- 503-577-1441
Email: todd@supportiveservices.net
Website: www.supportiveservices.net
Mail: P.O. Box 1886- Oregon City, OR 97045
   We here at Supportive Services Moving and Hauling have truly built our organization on a sincerely grassroots, organic philosophy, that no one shall be denied the ability to utilize a professional, dedicated moving company that leads with passion and compassion for it's clients and all communities in Oregon. Since our conception, Supportive Services Moving and Hauling has specialized in working with the Senior and Humans with Disabilities communities. We have extensive experience working with Case Managers, Social Services, and specialized coordinating and billing situations. And now we offer our incredibly low pricing and services to the general public!  With our specialized services and pricing, we will take care of your moving process from pre-packing and packing all the way through the moving process to the complete unpacking of your precious household items, recreating your new home as if you had all ready been living there!
   Our crews next to our clients are our and your most valuable assets, as they will treat you and your cherished belongings with GREAT care and respect and always with a genuine smile. Each crew member is handpicked based on extensive background checks and character. After all they are joining our family just as you are, which means that we believe nurturing long lasting relationships with everyone that we come in contact with. Due to our diligence to our philosophies we have proudly earned an A+ Rating with the Better Business Bureau since our conception in 2003.
   We are a fully licensed and insured company.  Please visit our website or call us today and let us take care of you and all of your moving needs. We are very much looking forward to taking care of you.
Services
Moving – We'll take you from one home to another with the greatest care and respect.
Furniture Deliveries of Donated Goods
*NEW SERVICE* Pack n' Load
Loading and unloading of your possessions into a truck that you provide.
Prices
We offer the choice of a 17, 20, 24 and 26 foot truck.  Prices are the same.  All rates are for two men and a truck.  Rates begin when the team leaves the terminal and ends when the job is complete.  We can provide free on-site estimates.  We offer discounted rates for bona fide non-profit organizations.  Please contact us for a list of rates.  Note: We do not transport people, or move full sized pianos, hot tubs or full sized gun safes.
Moving and Deliveries

$86.50 an hour – 2 hour minimum
$35 an hour for extra workers
We do come prepared to do some packing. (normal hourly moving fee will apply)
Rates go up for Sunday – $110 an hour – 2 hour minimum
Packing (before or after the day of the move)
$35 an hour (2 packers at $35 an hour each with a 2 hour minimum. Price is good on all days besides the day of the move.)
Load n' Unload

You provide the moving truck and we will provide you with two workers who will load your truck at your present site and unload it at the new site.
$60 an hour – 2 hour minimum
$30 an hour – each additional worker
We provide hand-trucks, furniture dollies, and moving blankets at no extra charge.
We can also provide packing supplies at an additional charge.
Customer Testimonials
"I have used Supportive Services for my last two moves. Out of all the movers I have used…..and there have been a lot over the years….these folks are by far the best! They were on time, and they were fast! Not a single grumble came out of their mouths, even when they moved my completely full cedar chest.  They were some of the hardest working people I have seen and they did not slow down until the last box was moved into my new home.  I will continue to use these guys if the needs arise and I will continue to recommend them to my friends and family. If you are looking for a professional, hard working, reliable and fairly priced mover, Supportive Services of Oregon is the team for you. I highly recommend them!" Molly – Salem, OR
"Supportive Services is the best! Not only did the whole crew show up on time, Todd and Darin were very professional and their knowledge and experience quickly put me at ease. I pretty much just had to open the house and they were off and running. Everything was packed securely, and everything arrived at my new home without damage or delay. Heck, they even vacuumed the floors in the old house for me! They knew exactly what to do and they did it with smiles on their faces, a spring in their step with a high standard of professionalism. I had no worries at all with my possessions being packed and moved by this great company. Thank you Todd, Darin and crew!" Sonja M – Bend, Oregon
"How wonderful the guys were.  I like to acknowledge when somebody does an exceptional job and they were just wonderful."– Trish
About Us
Supportive Services of Oregon was started by Todd Burton in 2003. Supportive Services of Oregon offers many years of experience in moving. We don't say "no", we say "let's go!"