With a Little Help ~ Home Care With Heart

Care@WithaLittleHelp.com
http://www.withalittlehelp.com
2021 Minor Ave East Suite A, Seattle WA 98102
(206) 352-7399

---
What We Do-With a Little Help is a Licensed Home Care Agency providing in-home care to seniors.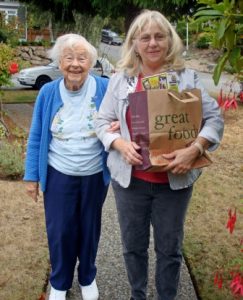 With a Little Help provides loving and supportive home care to seniors and others with special needs with the goal of helping seniors stay active and engaged in life.
We believe excellent home care accomplishes daily tasks, creates bonds that nurture the soul and provides peace of mind to seniors and their families. The special focus we place on building rewarding relationships between seniors and our mature, dependable caregivers forms the heart of our home care company. Our caregivers happily assist with everything from meals, light housekeeping and transportation to personal care and bathing on an hourly, daily or overnight customized schedule.
With a Little Help is an award-winning, locally-owned Washington State licensed home care company proud to be serving King, Snohomish and Pierce Counties since 1999.
---
Problems We Solve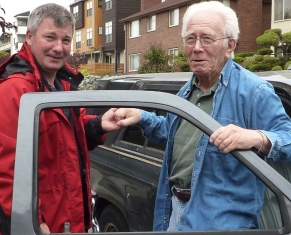 Seniors face unique challenges as they grow older. Let With a Little Help make those challenges a little less daunting and be a partner in the care for you or the ones you love.
Memory Loss
Caring for a loved one with memory loss due to dementia or Alzheimer's disease is especially challenging for family members. A senior with memory loss often needs help with daily activities like medications, meals, cleaning and transportation. Our caregivers receive specific training related to helping seniors with Alzheimer's or other types of dementia and many of our caregivers have extensive experience working with people with memory loss.
Poor Nutrition and Dehydration
Lack of appetite and disinterest in meal preparation and eating affects many seniors—especially those who live alone. While eating less is often a normal part of aging, weight loss and poor nutrition can be signs of trouble. Our caregivers can prepare a healthy, home-cooked meal and, just as importantly, be a friend at the table. We can also help with meal planning, grocery shopping and preparing meals that can be reheated to last a few days.
Parkinson's Disease
Seniors with Parkinson's Disease face difficult physical and emotional challenges. Our caregivers are trained to support seniors by maintaining the seniors' independence and redirecting the frustration that often comes with reduced physical ability. We also understand the importance of taking medications on time and will provide accurate reminders to reduce "off time." We're proud that the Seattle branch of The American Parkinson's Disease Association has chosen With a Little Help to partner with them in their caregiver respite program. As a family caregiver, you or your loved one may qualify to receive 20 hours of free respite care from With a Little Help.
Isolation and Lack of Motivation
Seniors often spend a lot of time alone and just having some simple, loving one-on-one attention can make an amazing difference in their day. Our caregivers arrive full of ideas and activities to help keep seniors engaged and active in life. A trip to a favorite restaurant, engaging in a favorite hobby or a walk along the waterfront with a friendly companion can be just the ticket for lifting the mind and spirit. We provide encouragement and find that with a little motivation it's amazing what seniors can do.
Caregiver Respite
When you're taking care of a loved one, it's easy to forget about your personal needs. Oftentimes, family caregivers wait until they're completely overwhelmed before seeking help. Even a few hours a week of respite can make a big difference in a caregiver's quality of life. You can rest easy knowing our caregivers will act as a friend of the family and provide a second set of eyes to watch for changes while you're away. This will give you a chance to get out of the house for a while or spend some quiet time at home alone while our caregiver takes your loved one out.
Transportation
Giving up driving is a big loss of independence for seniors, and contributes to isolation. We help seniors maintain their lifestyle as much as possible by driving them where they need to go, whether it is getting their hair done, running errands, going out to lunch, going for a drive, or visiting friends. Our caregivers are also happy to accompany seniors to medical appointments and provide a detailed report to the family. We ensure all of our caregivers have a safe driving record and are insured.
Telecare-The Remote Safety and Health Monitoring System for Seniors
With a Little Help is breaking new ground in home care services with the introduction of Telecare, a remote monitoring system designed to help seniors and others with special needs maximize their independence and manage health conditions at home. This empowering and affordable service incorporates tools that help seniors get assistance in an emergency, manage medications, and track vital signs and biometric readings. All services are supported by our 24/7 monitoring center—with instantaneous reporting to family and care team members when anything is amiss or they simply want to review activities.
Our Telecare system features three key tools: a mobile help button, a medication dispenser and a remote monitoring component. The service is tailored to each client's needs and care plan. The easy-to-use tools can monitor a senior's physical activity, location, adherence to medication schedules, vital signs and biometric measurements, including lung capacity, glucose levels, blood pressure and weight information. If the system detects an abnormal reading, the 24/7 monitoring center alerts the senior and/or designated family and care team members.
---
Getting Started-FREE Assessment Visits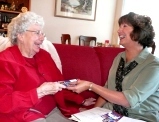 Getting started with With a Little Help is easy. The first step is to call the office at 206-352-7399 to get a conversation started about your care needs. Our friendly care coordinators will ask you for some basic information and answer your questions. They will schedule a time that is convenient for you and your family for a visit with one of our Client Assessment Specialists who will complete a client assessment. This is free of charge. We encourage family to attend the assessment because we believe providing the best help includes input from everyone involved in a senior's care.