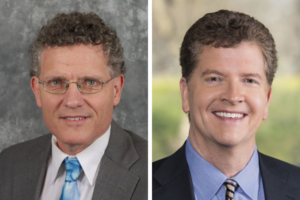 Salem Health Hospitals & Clinics recently welcomed two health care leaders to its board of trustees. David Harrison, MD and Phil Jackson began serving their three-year terms in early October.
"These two leaders have demonstrated competencies that will complement those of other board members and will support the mission of Salem Health," said Bonnie Driggers, BSN, MS, MA, RN, Salem Health board of trustees chair. "They've both demonstrated their commitment to caring for people throughout their careers. We are looking forward to their contributions toward our mission to improve the health and well-being of the people and communities we serve."
Dr. Harrison grew up in Chicago. He earned his undergraduate degree from Yale University, and then attended medical school at the University of Virginia. He completed his radiology residency and magnetic resonance imaging fellowship at Massachusetts General Hospital in Boston. After finishing his training, Dr. Harrison worked for nine years as a radiologist at a small Harvard teaching hospital, where he became associate chief and directed the MRI program. He took a sabbatical in 2004, working as a radiologist in New Zealand. He joined Salem Radiology Consultants in August 2005.
"As a physician who has served in Salem Health's medical staff leadership, I've seen the commitment to excellence firsthand," said Harrison. "I'm thrilled to bring my experiences in a wide variety of health care settings across the U.S. and New Zealand to the board. This is an excellent opportunity to be involved in leading-edge efforts to create quality, value-driven health care."
Dr. Harrison's wife, Joyce Millen, is an anthropology professor at Willamette University. They live in Salem with their daughter Maya. Dr. Harrison's outside interests include traveling, hiking, running and birding. He also serves on the boards of the Oregon Chapter of the Nature Conservancy and the American Bird Conservancy.
Jackson has been a leader in health care systems for four decades. He is currently CEO of Sutter Health's Health Plan Products. He previously spent nearly 30 years with Washington-based Providence St. Joseph Health.
"I am honored to serve on the Salem Health board of trustees," said Jackson. "As a native Oregonian with deep roots and family in the region, I am vested in the health of its citizens. I look forward to supporting Salem Health's mission through work on the board of trustees."
After leadership roles at Providence Health Plan, Jackson moved into medical group management. He served as chief operating officer, vice president of physician services and, finally, chief integration and transformation officer for the California region while at Providence Medical Group. Jackson served as president and CEO of Oregon's Health CO-OP before moving to his current role at Sutter. He earned a bachelor's degree from Portland State University and a master's degree from the University of Texas at Austin.
Dr. Harrison and Mr. Jackson are expected to bring a multitude of skills and expertise to the Salem Health board of trustees. They are both expected to begin their tenure in October.
About Salem Health: Salem Health offers exceptional care to people in and around Oregon's Mid-Willamette Valley. It comprises hospitals in Salem and Dallas, a medical group of primary and specialty care providers, plus other affiliated services. Visit them at www.salemhealth.org; "Like" them on www.facebook.com/salemhealth; follow them on Twitter: @salemhealth; and view them at www.youtube.com/salemhealth. More information: Salem Health media relations, available 24/7 at 971-718-3157.