Phone: 503-472-6131
Email: contact@mywvmc.com
Website: www.WillametteValleyMedical.com
Address: 2700 SE Stratus Ave, McMinnville, OR, 97128
---
The mission of Willamette Valley Medical Center is simple: You matter. Amazing care every time.
We have adopted this mission statement to help us focus on what truly matters: You. And our commitment is to make sure our patients receive amazing care every time they have contact with Willamette Valley Medical Center.
This is a lofty mission. When patients come to our hospital they will be touched by so many people: personnel in admitting, housekeeping, and our business office; nurses in our cancer center, emergency department, Birthing Center and intensive care unit; volunteers, physicians, technicians, and therapists.
To make sure our patients and their families have an amazing experience, we want to make sure you experience the same as an employee.
---
Our Services
Skilled physicians, compassionate nurses, supportive staff and dedicated volunteers work together to provide amazing care every time at Willamette Valley Medical Center.
We provide a wide range of services, from our Birthing Center to Wound Care and Hyperbaric Medicine to our nationally-recognized laboratory. Our 3D Mammography — the first in Oregon — and Smart Arc radiation technology are just two examples of our dedication to provide our patients with the latest in technological advances.
Read about our services. If you have questions that aren't answered here, please call your primary care physician or our hospital at 503.472.6131.
View our full list of services
---
Joint Replacement Institute at Willamette Valley Medical Center
To learn more about our program, tour our facility or schedule a consultation, contact Natalie Reed, JRIO Program Manager today.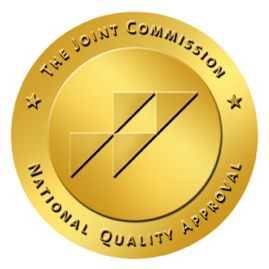 Location: Second floor north pod, Joint Replacement Institute
Program Manager/Coordinator: Natalie Reed
Phone: 503-435-6571
E-mail: Natalie.Reed@capellahealth.com
Our innovative joint replacement program is designed to help patients recover quickly and return to the activities they enjoy.
We have been awarded certification and the Gold Seal of Approval by the Joint Commission for hip and knee replacement surgery based on our commitment to excellence. This means that we:
 Comply with consensus-based national standards
Effectively use evidence-based clinical practice guidelines to manage and optimize care
Incorporate an organized approach to performance measurement and improvement activities.
Our team of healthcare professionals provide care throughout one coordinated system from the surgeon's office to the hospital stay and then home from the hospital. Our specially trained staff provide optimal surgical care, enhanced post-operative pain management, patient-specific rehabilitation and patient and family education for a seamless transition home from the hospital.
Patient post-operative surveys show our patients have less pain
Studies show that our patients have less pain, recover more quickly and have fewer complications than patients in other joint replacement programs. In a nationwide survey, our patient satisfaction ranks in the 98th percentile when patients were asked how they would rate their hospital experience. 95% of our patients go directly home from the hospital within 1-2 days after walking approximately 460 ft the day after surgery.
If you or a loved one are considering joint replacement surgery, please give us a call. You can learn more about the Institute and get many of your questions answered by reading about the program and frequently asked questions. Hear from patients who have undergone a total joint replacement at the Institute in patient testimonials to learn more about the total patient experience.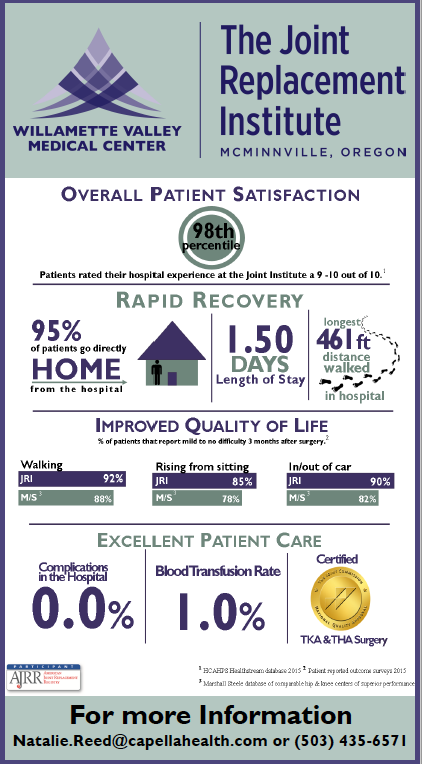 ---